Good morning friends!!
Already we have returned after a few long vacations full of unforgettable moments in my dear Galicia.
Today I want to give you the recipe of the panacotta of vanilla that they prepare in one of my favorite restaurants here, in Tunbridge Wells. It is so easy to do that my daughter Ana with only 10 years is the manager of doing it.
The panacotta is ideal to serve it in the tablecloth, accompanying to the coffee and to the Gin and tonic. If you think to serve it in the tablecloth you can do it in a few small glasses and the ideal quantity of panacotta is of 70 ml and 90 ml for glass.
If on the contrary you prefer serving as dessert the different quantity!. In the recipe you will find the ideal quantity that you must put.
Today we are going to accompany with red fruits but you can serve it with what more you like, fruit of the passion, handle and even with sauce of toffee or with culis of fruits it will be delicious!
Kisses and happy weekend!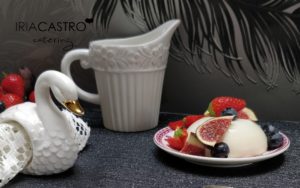 Panacotta of vanilla
2018-09-02 08:14:12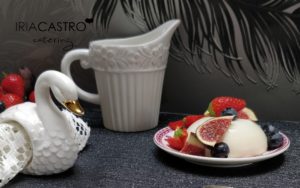 Serves 6
To prepare the panacotta
250 ml whole fresh milk
250 ml creme to 35 % mg
50 gr sugar
1 pod of vanilla and a pinch of pasta of vanilla
5 gr tails of gelatine
To serve
Red or varied fruits.
Preparación
It is so easy to do that alone you will have to put to the fire all the ingredients less gelatine.
Meanwhile to hydrate the gelatine during 5 minutes in cold water (to immerse them very well in the water).
When the creme and the milk start boiling lowering the fire and stopping a few minutes to slow fire.
To withdraw of the fire and to add rapidly the tails of gelatine before drained and you dry. To remove very well with help of a spatula and to seep.
To spill the cream panacotta in the molds chosen (we have used a few cups of average size).
Remember that the quantity that you serve is important, to calculate between 100 ml and 125 ml.
Cool in the freeze for 6 hours before serving.
At the moment of serving introduce the cups of panacotta in a bowl where we will have warm water.Hereby it will be very easy to withdraw the panacotta of the mold.
To arrange them in the chosen plates and to accompany them and to decorate them to the taste.
Enjoy!!
Adapted from The Ivy
Adapted from The Ivy
Catering Iria Castro https://www.iriacastro.com/