Good afternoon,

If I tell you that this pie is one of the best apple pie that exist, what do you say?

Well, it's true !!, the dough is delicious and the apple with the caramel is amazing!!

Serve warm with the caramel sauce at room temperature.

Kisses and happy week.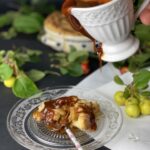 Apple pie with caramel sauce
2020-09-20 08:54:25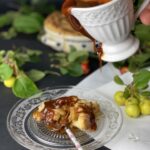 Serves 8
To prepare the pie dough
140 g flour
20 g sugar
a pinch of salt
110 g butter cold and in small pieces
3 c.s. cold water
To prepare the apple
2 1/2 golden apples
1 1/2 granny smith apple
the juice of 1/2 lemon
40 g sugar
30 g sugar +35 g cornstarch + ground cinnamon + a pinch of nutmeg
To prepare the caramel sauce
115 g sugar
35 g water
80 ml cream 32% fat
55 g butter
To end
1 beaten egg
Sugar
Preparación
Prepare the dough by combining all the ingredients except the water in a bowl.
Mix the ingredients until you get a texture similar to sand (what we call sablé dough). At that time add the water, mix and reserve for 1 hour in the fridge.
Meanwhile peel and cut the apples into small pieces.
Arrange them in a bowl and add the 40 g of sugar and the lemon juice.
Leave 25 minutes covered with plastic wrap and at room temperature.
After time add the mixture of cornstarch, cinnamon ... and mix very well.
Prepare the caramel sauce by placing the water with the sugar in a saucepan over the fire.
When the sugar is completely dissolved (about 3 minutes) add the butter in small pieces little by little and stir with a whisk.
Let the caramel begin to take color and finally add the cream.
Stir and leave on the fire until golden color.
In a pie tin of approx 20cm diameter and brushed with butter, arrange half of the previously stretched dough, covering the entire mold.
Add the apples (they are dry, do not use the liquid that they have released in the bowl)
Pour 3 tablespoons of caramel sauce and cover the pie with the rest of the meat, very well stretched.
Make a hole in the center of the cake (see photo) and brush the dough with beaten egg and sprinkle sugar on top.
Bake at 200ºC for 20 minutes. Lower the temperature to 175ºC and leave for 40 more minutes.
Remove from the oven and let it rest before serving.
Serve warm or at room temperature with the caramel sauce.
Catering Iria Castro https://www.iriacastro.com/