Good afternoon
As tomorrow is Holy Thursday today I want to share with you this special recipe of carrot cake.
The point of cardamom is very elegant in this cake and the frosting of cheese with brown sugar is simply divine.
If you have time do it, I'm sure you will love it!
Enjoy these days!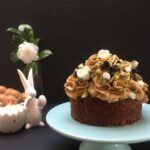 Special carrot cake
2019-04-03 07:29:34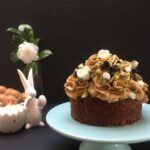 Serves 12
To Prepare the cake
200 ml vegetable oil
225 g brown sugar
4 eggs
210 g pastry flour
2c. C Baking Powder
1 DC Bicarbonate
12 cardamom seeds
80 g currants
250 g very grated carrots
45 g chopped Green pistachios
For Frosting
125 g butter at ambient temp
100 g brown sugar
150 g sugar Glass
150 g Philadelphia Cream cheese
To finish
Raisins, pistachios, sugar blossoms
Preparación
Preheat the oven to 170 º C.
In the bowl of the cooking robot mix the oil with the sugar and the eggs and beat for a couple of minutes.
ADD the sieved dry and crushed seeds into a cardamom mortar.
Mix the assembly with the robot rods until a thick, spongy cream is obtained.
Add raisins, pistachios and grated carrots.
Pour the mixture into the chosen mould (1 L capacity) and previously greased.
Bake for 55 minutes. Check before removing from the oven at the point.
Remove from oven and allow to stand for 15 minutes. Unmold on a grate and allow to cool.
Meanwhile prepare the frosting by working the butter with the electric rods until making cream.
Add the sugars and continue beating. Then add the cheese and mix very well.
Arrange the frosting in a pastry sleeve with a nice nozzle and bowls on the carrot cake that will be cold.
Decorate with raisins, chopped pistachios and flowers.
Catering Iria Castro https://www.iriacastro.com/
Kisses