First of all tell you that this recipe is wonderful.
We will prepare pork belly cooked at low temperature in the oven for 3 hours with a very special and very oriental sauce.
With the bacon we will fill the Taiwanese breads with steam. The BAOs are Oriental snacks that are steam-cooked. You can make them or buy them in specialty stores. Now you'll find quality baos ready to just steam and serve.
Kisses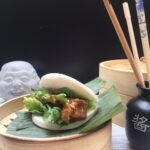 Nice baos buns
2019-05-05 20:56:38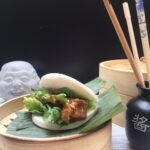 Serves 6
To prepare pork belly
1 kilo of pork bacon, without the skin cut into pieces of 8cm x 4cm.
Browning Flour
Salt
Sesame oil
For the sauce
2 small onions
1 medium (grade of pungent) red chille without seeds and sliced
100 g peeled ginger and cut into large chunks
2 star Anis
4 chopped garlic cloves
1 c. C 5 Spices Powder
1 c. C Fennel seeds
50 ml light soy sauce
1.5 L Dark Meat Bottom
To finish the sauce
45 g very chopped ginger
1 chilli Red Medium hot
For lining
12 baos (Oriental shops)
celery
Romaine lettuce leaves
Sweet chilli sauce with half a hot spot (mild sweet chilli)
springs onions
Instructions
Preheat the oven to 140 º C.
Cut, season and flour the bacon.
In a pot heat sesame oil. Add the bacon and brown it very well.
Add the two chopped small onions, ginger, chilli, anise stars, garlic and spices. Leave to the fire 10 minutes and to finish add the soy sauce and cover with the dark bottom of meat.
Place in the oven for 3 hours (if it is necessary to cover the meat with baking paper to prevent it from drying during cooking).
Before removing the oven, make sure that the meat is very tender and if the cooking needs more broth, add it. (think that the liquid will reduce a little during the 3 hours...).
Remove the meat from the oven and let stand for 30 minutes.
Take the meat out of the sauce and put it in a small, clean casserole.
Boil the sauce and add 1 C.S. of cornstarch dissolved in a little water.
Let the sauce cook for 10 minutes on medium low heat.
Strain and pour the sauce over the meat.
Meanwhile boil in boiling water the 50 g of ginger and the red chilli 4 minutes.
Drain and go through cold water. Add to the sauce and mix. This oriental stew will be much richer 24 hours later.
When serving, cook the steam baos for a couple of minutes. Fill the baos with a little bit of everything, the bacon crumbled with a little sauce and end up adding the hot sweet sauce.
Serve right away and enjoy!!!!
Catering Iria Castro http://www.iriacastro.com/