These biscuits are ideal for serving after a great meal.
The texture of the shingle is exquisite, crisp and delicate. Do many because they will eat them all.
Kisses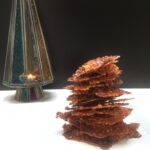 Almonds biscuits
2019-05-08 19:24:06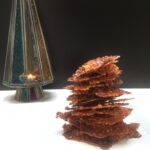 Serves 30
To prepare biscuits
100 g of ground almonds
145 g icing sugar
125 g butter
50 g glucose
50 chopped almonds
50 ml milk
Instructions
In a saucepan mix all the ingredients and put on the fire. It is important that it does not boil. When all is well mixed and liquid pour into a bowl, stir well and let cool.
Store in the fridge 24 hours.
In an oven tray lined with baking paper, use a piles spoon of 11 g approx. of shingle dough.
Leave a gap between the shingles because they expand.
Insert in the preheated oven at 200 º C for 5 minutes. Remove from oven and allow to cool 1 minute before removing from paper.
Keep them in an airtight box and enjoy them on the table!
Catering Iria Castro http://www.iriacastro.com/