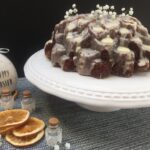 Orange bundt cake
2019-04-02 07:01:35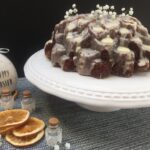 Serves 12
To Prepare the cake
200 g butter
250 g sugar
The zest of two oranges
4 eggs
300 g flour
A C. C Baking soda
1 c. C Chemical yeast (royal)
100 ml sour cream
275 g orange Marmalade
For Icing
1 orange Juice
125 g orange marmalade
For Frosting
250 g sugar Glass
1 orange Juice
Preparación
Preheat the oven to 180 º C.
In a bowl beat the butter, sugar and orange zest.
Go Adding the eggs to the butter, one by one.
Mix in a bowl the sour cream with the orange marmalade and mix very well.
In Another bowl sift everything dry.
When all the eggs are incorporated into the butter pour 1/3 of the flour into the mixture and beat 1 minute.
Then add half of the sour cream and jam, let it beat 1 minute and repeat the same operation ending with the flour.
Pour into the greased Pan chosen and bake for 45 minutes. Check that it is at its point before removing it from the oven.
Leave to stand in the mold for 10 minutes. Meanwhile beat with the Turmix the orange marmalade to make the glaze, add the orange juice and put on the fire.
Let it boil lightly until it is textured with syrup (glaze).
Remove the cake from the mold and Pincelarlo with the jam.
Finish the cake with the orange frosting. (Mix the glass sugar in a bowl with the orange juice until the desired texture is achieved.)
Decorate to taste!
Catering Iria Castro https://www.iriacastro.com/