Good morning!
The truth is that about a lot of time that there was not proving such a different and exquisite cake.
The combination of the dates with the ginger in syrup is the richest and if it raises we put a teaspoonful of mixture of spices already I do not even tell you!!
This cake is the simplest to do, to respect the time of oven, and do not work very much the mixture. Do not worry, in the recipe I explain to you like to do it!!
I hope that you happen a happy weekend, we go away to happening the day to London and when the King León sees, that you win!!
Kisses!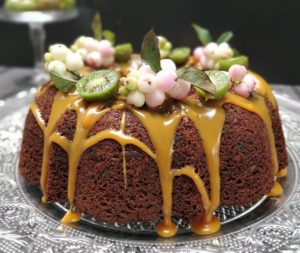 Ginger and date cake with caramel sauce
2018-09-15 08:25:22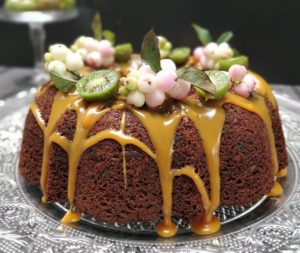 Serves 10
To prepare the cake
185 gr soft, pitted dates
50 ml boiled water
110 butter, melted
3 eggs
85 gr moscovado sugar
1 c.c. mixed spice
50 gr ginger in sirope finely chopped and drained
1 c.c. bicarbonate of soda
110 gr plain flour
2 c.c baking power
For the caramel sauce
100 gr butter
100 gr moscovado sugar
100 gr Golden sirope
225 ml cream
Preparación
Preheat the oven to 175ºC.
Place 100 gr of dates with 50 ml of boiling water in a food processor and blend until smooth..
Chop the remaining dates and mix with the ginger.
Place the flour with the yeast and the bicarbonate in a bowl. Add the moscovado sugar, the mixed spices, the eggs and the melted butter. To end up by adding the mash of dates, the dates and ginger chopped.
Mix everything very well.
Spoon into the preparing tin of 22 cm of diameter.
Bake for 25 minutes and to verify before withdrawing of the oven that is cooked in the center.
Leave to cool for 5 minutes, then turn out onto a wire rack.
Place all the ingredientes for the sauce in a saucepan and warm over a low heat for 15 minutes.
This cale is lovely!!

Adapted from Iria Castro
Adapted from Iria Castro
Catering Iria Castro https://www.iriacastro.com/