Years ago I did several cooking courses in the cooking school Lenotre´s and these savory crepes that we were taught to do are very special!
I'm sure you'll love them and they'll be part of your favorite recipes.
Happy week and Kisses.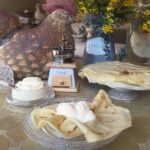 Crépes
2019-04-23 08:57:05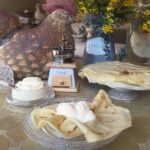 Serves 12
For 30 Crépes
80 g butter
70 g sugar
250 g flour
80 ml sunflower oil
6 eggs
Vanilla extract
Zest of an orange (optional)
750 ml milk
To prepare vanilla custard
290 ml cream
250 ml milk
3 egg yolks
75 g sugar
20 g cornstarch
1 Open and torn vanilla pod
40 g butter
Preparación
Prepare the dough of the creps by beating all the ingredients except the orange zest and butter in the blender jar.
Meanwhile melt the butter in a small saucepan to the fire until you get noisette point, golden brown!!
Remove the butter from the saucepan, pour it in a glass and let it lose temperature.
Add the butter Noisette to the dough, grate and shred again.
Strain and let stand for 25 minutes in a bowl.
Prepare an ideal frying pan to make the crepes and put it on fire.
Brush the pan with butter at room temperature and start making the Crepes.
To prepare the custard, bring the cream to the boil with the vanilla and 200 ml of milk.
In a bowl, mix the egg yolks with the remaining 50 ml of milk, cornstarch and sugar.
Pour the boiling cream over the yolk bowl, remove the whole, strain and put everything back into the fire.
With the help of a stirring rod very well as it begins to boil.
The cream should be boiled for 5 minutes but be careful not to grip the bottom!
Remove the fire cream when it is thick and shiny and pour it over a large bowl.
Remove the cream once in a while with hand rods and after 15 minutes add the 40 g of butter in small dice. Stir very well until the butter has been added to the custard and it is at that time when you will have to cover the surface touching the cream with transparent film.
Allow to cool before use.
The custard is kept very well in the fridge for 4 days.
When serving, fill the crepes with the vanilla custard!
Adapted from Iria Castro
Adapted from Iria Castro
Catering Iria Castro https://www.iriacastro.com/