Having children at home is what you have, preparing different and rich things is very important because if you do not end up always eating the same.
This recipe of Fingers is for the whole family, for children and adults and ideal to serve in a cocktail-style dinner.
Mojadlos in the sauce and you'll see what a delight!!!!
Kisses.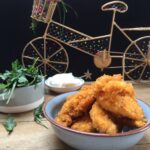 Chicken fingers with mustard sauce
2019-04-25 06:40:41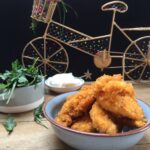 Serves 4
To prepare the fingers
250 g Cornflakes (Kelloggs)
Salt
2 eggs
500 g chicken fillets or chicken breast cut into fingers
Sunflower Oil for frying
To prepare the mustard cream
75 g mayonnaise
75 g sour cream
2 tsp Dijon mustard
1 tsp. Maple Syrup
salad (arugula, Lolloroso...)
Preparación
Crush the cornflakes with a little salt in the cooking robot (do not get to make dust, that remains a large piece).
Pass the chicken by flour, remove the excess and then pour into the beaten egg.
Bread sirloins with cornflakes and fry in sunflower oil.
To prepare the mustard cream mix mayonnaise, sour cream, mustard and maple syrup and lightly season.
Serve the chicken fingers with the mustard cream and a green salad.
Catering Iria Castro https://www.iriacastro.com/