If I tell you that it is the first time after almost two years living in England that I make fish and chips?
I have prepared fish and chips in my own way and this recipe will become part of my cookbook. It is very good and elegant, as I like the recipes!!!
Happy Saturday night!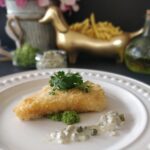 Fish and chips
2019-01-19 19:04:32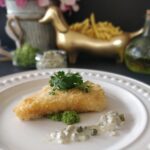 Serves 4
Ingredients
4 Monalisa potatoes peeled and cut into fine canes
Salt and vegetable oil
To prepare the fish
4 fillets of 180 g of Haddock (Pollack)
25 g flour
Zest of 1 lemon
Salt and white pepper
150 g Pan Panko (Japanese breadcrumbs)
2 beaten eggs
To prepare tartar sauce
125 g quality mayonnaise
25 g Capers Mini
30 g pickled gherkins
Chopped parsley and tarragon
15 gr Dijon Mustard
1 small shallot very chopped
Salt
For the puree of peas
200 g frozen peas
40 g butter
5 Leaves of chopped mint
Salt
Preparación
Prepare the potatoes and poach them in abundant sunflower oil for 8 minutes. They should not be colored but if cooked lightly (poaching).
Drain them very well and reserve them well stretched on a tray lined with kitchen paper.
To prepare the fish in a bowl, mix the flour with the zest of a lemon.
Lightly season the fish, cover very well with the flour, remove the excess, pass the fillets by beaten egg and finish breading them in the Panko bread.
Book until serving time.
Prepare the pea purée by cooking the frozen peas in plenty of boiling water with salt.
Leave them for 5 minutes, drain quickly and put them in a bowl that we will have prepared with water and ice.
Leave them on the ice for 10 minutes, no more, drain them well and finish the mashing
In a saucepan heat the butter with a few drops of oil,Mash the whole well and if the purée is too thick add some water.
Add the mint very chopped and put to salt.
Prepare the tartara sauce by combining all the ingredients.
At the time of serving fry the fish in abundant sunflower oil (190 º C).
Fry the poached potatoes in hot sunflower oil (200 º C) until browned. Season.
Heat the pea purée.
Serve the fish with the tartar sauce, the mashed peas and the french fries.
Catering Iria Castro https://www.iriacastro.com/