These tartalets are delicious!!!
The combination of figs with pistachio frangipane is groundbreaking and exquisite.
The cookie will be crispy and the touch of lime is wonderful.
Kisses.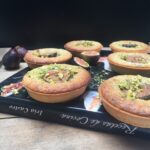 Frangipane of pistachios with figs
2019-05-06 20:25:31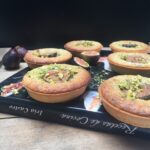 Serves 6
To prepare the Sablé
300 g flour
90 g sugar Glass
A pinch of salt
200 g cold butter cut into tiny dice
The zest of a file
25 g egg yolk
25 ml water
For the Frangipane
90 g natural Green pistachio
30 g flour
35 g ground almonds
Salt
125 g butter at ambient temp
125 g sugar
Zest of 1 lime
2 semi-beaten eggs
A few drops of cognac
6 small or 2 large figs
Preparación
Preheat the oven to 180 º C.
In a bowl sift the flour, add salt, zest and sugar glass
Cut the cold butter into small pieces and proceed to the sandblasting: Undo with the fingers the butter along with the flour, so that we have a kind of sand (we should not have lumps or large pieces of butter).
Add the yolk and try to make a uniform mass kneading as little as possible so that it does not take strap. (Add a few drops of cold water if we see that the dough is not binding).
Let stand for one hour in the refrigerator covered with film before use.
The dough can be done with the cooking robot using the K.
Stretch on the work table and line the chosen tarts. Reserve 1 hour in the fridge.
Bake at 180 º C for 15 minutes blindly (with a weight on top).
Remove the weight and let it cool.
Prepare the Franchipane by shredding the 90 g of pistachios with the cooking robot. Add almond flour and wheat flour. Shred 5 seconds.
In the bowl of the cooking robot, beat the butter with the sugar and lime zest.
Gradually add the semi-smoothed eggs and finally dry them. Mix.
Insert the frangipange into a pastry sleeve and bowl on the tarts.
In the center of each tartlet dispose 1/2 fig (if small) and bake at 190 º C for 15 minutes.
Remove from oven and allow to stand for 10 minutes. Sprinkle some chopped pistachios over the top.
They are delicious cold but temperate are wonderful!!!
Adapted from Iria Castro
Adapted from Iria Castro
Catering Iria Castro https://www.iriacastro.com/