This dessert is spectacular. It is beautiful, rich and elegant, it has everything! I am sure it will be part of your recipe book.
Kisses,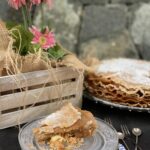 Vanilla pastry, nougat and coffee
2020-05-13 20:09:23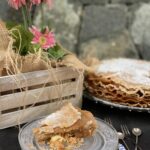 Serves 8
To prepare the cake
8 sheets of brick
Sunflower oil for frying.
Custard cream
450 ml milk
150 g liquid cream
40 grams of cornstarch.
Vanilla extract.
140 grs sugar.
60 g butter
6 yolks.
1 egg
2 envelopes of soluble Nescafé.
Jijona nougat
Sugar glass
Preparación
Boil the milk with the cream and the vanilla extract. Mix the sugar with the egg yolks, the egg and the cornstarch. Pour the hot liquid over the egg mixture, mix well and return to the fire until boiling.
Cook for 2 minutes, remove from the heat and pour the cream into two bowls and add to one of them while the Nescafé is still hot. Add the butter, 30 g to each bowl (see video) and cover the two bowls with transparent film and let cool.
It is important that the creams are very cold before mounting the cake.
Fry the brick leaves in abundant oil, one by one so that they do not stick. Remove and reserve on absorbent paper.
IT IS IMPORTANT THAT BEFORE ASSEMBLING THE CAKE WE WORK THE CREAMS WITH THE HANDLE ROD SO THAT THEY ARE VERY CREAMY AND SMOOTH!
At the time of assembling the cake, arrange the leaves two by two, on top of coffee pastry cream, 2 brick leaves, crumbled nougat, 2 brick sheets, pastry cream, 2 brick leaves. Sprinkle with icing sugar.
It keeps very well for 2 hours. It is best to mount it almost at the moment !!!
Catering Iria Castro https://www.iriacastro.com/