These are the recipes that I like the most !!!

Those of a lifetime and that always feel like and more in good weather.

The most important thing when making roasted peppers is the temperature of the roast. Follow the recipe step by step and you will see how good and rich they will be !!

I love serving them with buds, with those small leaves, crispy and tight and slightly more curly than the leaves of romaine lettuce.

Kisses,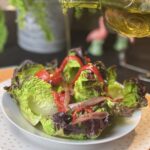 Roasted red peppers with buds and anchovies from Santoña
2020-06-14 20:17:33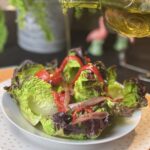 Serves 6
To prepare the roasted red peppers
3 red peppers for roasting
85 ml olive oil 1º
150 ml water
Salt
1st olive oil
6 buds or 12 if they are small
18 anchovies from Santoña
Dressing
180 ml virgin olive oil variety Arbequina
55 ml sherry vinegar
Salt
Albal Aluminum Foil
Plastic bag
Preparación
Preheat the oven to 185ºC.
Wash the red peppers. Dry them and place them on a somewhat deep cookie sheet.
Season the peppers, add the oil and then the water.
Bake in the middle of the oven for 30 minutes.
Check at all times that the tray has juice (from oil and water). If not, add a little more oil and water.
When the peppers begin to take color and the skin begins to wrinkle, turn them over and leave them for 15 more minutes.
Lower the oven temperature to 160ºC and bake 35 minutes more approx.
The peppers at this time should be roasted, with a beautiful golden color and with very wrinkled and shiny skin.
Remove from the oven and put the peppers and the juice from the roast in a plastic bag and tie the bag in a knot so that all the steam from the roast remains in the bag and this way, once the peppers are cold, it is very easy to peel them.
Meanwhile clean the buds and remove the anchovies from the fridge so that they become tempered.
It is very important that when serving the anchovies are not too cold !!.
Prepare the dressing by combining the olive oil with the sherry vinegar and the salt in a bowl. Mix with the help of a rod and reserve in the fridge until serving time.
Peel the red peppers, remove the seeds and cut them into wide strips. Strain the juice from the roast and add salt if necessary.
Place the peppers on a deep tray and add a little of the juice from the roast and olive oil 1º. (This is how you should keep the peppers in the fridge). They keep very well for 5-6 days.
At the time of serving have 1 or 2 bud per person (see photo), roasted red peppers and anchovies from Santoña. Dress lightly and enjoy!
Catering Iria Castro https://www.iriacastro.com/