With these profiteroles you are going to succeed this Christmas.
They are ideal to serve with coffee!!. Follow the recipe step by step and you will be equal or better than me.
Kisses.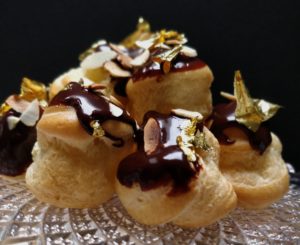 Tiramisu profiterole
2018-11-22 07:51:14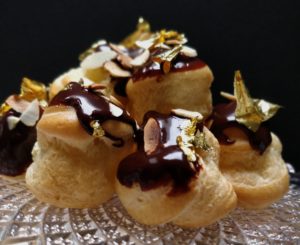 Serves 8
For 25-30 profiteroles
75 gr plain flour
1tsp icing sugar
50 gr Butter
2 medium-sized eggs
150 ml water
For filling
200 gr Mascarpone
10 ml coffee liqueur
100 ml double cream
32 gr icing sugar
2 tsp. Instant coffee + 1tsp water
For chocolate Icing
75 gr Chocolate at 70% cocoa
75 ml double cream
1 C.S. Gloden syrup (dense syrup)
For almonds
35 flaked almonds
75 gr caster sugar
To prepare the pasta choux
In a saucepan of fire gently boil the water and butter.
Meanwhile sift the flour and icing sugar.
When the water breaks to boil, remove the pot from the fire and add the flour.
Using a wooden spoon, move the mixture vigorously for a couple of minutes.
You will know that the dough is perfect when the choux paste is separated from the edges.
Then let the dough rest for 5 minutes and then add the eggs one at a time and without whipping.
First an egg, mix it very well with the pasta choux and then the second egg.
Pour the pasta into a pastry sleeve with smooth nozzle and bowls piles round and not very large pasta choux on an oven tray covered with baking paper.
Bake at 210 º C for the first 15 minutes and at 180 º C for the last 5 minutes.
(It is very important that the pasta choux be dry once it is baked).
Remove from the oven and leave to cool.
Prepare de filling: mix and work in a bowl the mascarpone with the liquor, the instant coffee dissolved in water and the sugar.
Whisk the double cream and fold into yhe mascarpone mix.
Prepare the chocolate melting all the ingredients in the microwave.
Let it lose temperature before using.
In a frying pan or in the oven at 190 º C, toast the laminated almonds.
In a small saucepan with 2 tsp. of water put the sugar in the fire. When the sugar has dissolved and has a nice pale golden color, remove from the heat and pour over the almonds. Once cold, chop them with your hands in small pieces.
When serving, introduce the tiramisu mousse into a pastry with a smooth and small mouthpiece and start filling the profiteroles that will be completely cold.
Pass them through the chocolate sauce that will be at a perfect temperature to cover part of the Profiterole
Finish by placing caramelized almonds chopped on each profiterole.
Serve as soon as possible!
Note
The stuffed profiteroless hold very well for 2 hours and in a cool place.
Think that the longer you fill the moister the choux pasta will be.
Do not let them, they are wonderful.
Adapted from Iria Castro
Adapted from Iria Castro
Catering Iria Castro https://www.iriacastro.com/