This is one of my friends' favorite desserts !! It is delicious, the dry meringue will be crispy on the outside and very juicy on the inside and the lemon mousse is very easy to prepare and is exquisite.
For this dessert I usually buy the Robertsons brand lemon curd (in carrefour, el corte ingles …).
Once done, it keeps very well for 2 days in the fridge.
Kisses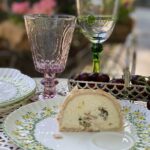 Roulade of lemon curd with green pistachios
2020-05-10 18:54:12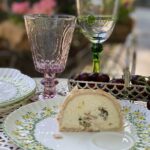 Serves 8
To prepare the French meringue
5 egg whites at room temperature
275 g super fine sugar (caster sugar)
a pinch of salt
Rolled almonds (optional)
For the curd lemon cream
450 g double cream or cream with 35% of M.G ideal to assemble.
320 g lemon curd Robertsons
85 g chopped natural green pistachios
Preparación
Preheat the oven to 200ºC.
Beat the egg whites with a pinch of salt.
LITTLE BY LITTLE (tablespoon by tablespoon) add the sugar as the whites are assembled (on instagram you have a photo of how the whites should be mounted).
Line a baking tray of 30x35 cm approx with baking paper and pour the meringue.
Spread it out with the help of a spatula 3-4 mm thick (don't leave it too thin !!).
If you want, you can spread some rolled almonds on top and bake at 200ºC for 10 minutes and then lower the oven to 170ºC and bake it for 20 more minutes (before removing it from the oven, check that it is hard to the touch and crisp on the surface).
Leave a couple of minutes on the kitchen table.
Place kitchen paper on the work table, turn the meringue tray on the paper and carefully and slowly remove the meringue paper.
Let cool. Meanwhile prepare the lemon curd mousse by heating all the lemon curd in a bowl in the microwave for 30 seconds.
Work the cream with some rods to smooth it and that it does not have lumps.
Whip the cold cream very well. Add the lemon cream 3 times mixing with a rubber spatula with enveloping movements.
Pour the lemon mousse over the meringue and stretch slightly. Spread the chopped green pistachios in the kitchen robot and with the help of the oven paper that we will have under the meringue form the roulade (you have photos in my instagram and a video on how to do it).
Wrap with Albal aluminum foil and store in the fridge for at least 4 hours before serving.
Serve with icing sugar on top and enjoy it, it is a delicious dessert !!!
Catering Iria Castro https://www.iriacastro.com/