This cake is one of my favorites! For beautiful, for delicious, for delicate … for everything!
We will prepare the tatín with golden apples but it is also delicious with red apples. You can make the puff pastry or buy a quality one.
The point of the caramel is very important, do not put too much butter on it! Follow the recipe step by step and help you with the video. In this way it will surely come out exquisite and perfect !! Kisses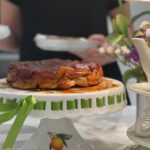 Apple Tatin
2020-03-31 18:46:39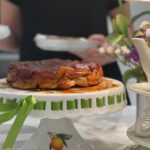 Serves 6
To prepare the tatin tart
A mold of 23 cm diameter
Height 4 cm
3-4 large golden apples
85 g sugar
25 g butter
1 plate of 30 cm diameter
Thick cream, vanilla ice cream, cream enters ...
Preparación
Preheat the oven to 190ºC.
The first thing we must do is melt part of the sugar over the fire in the pan where we are going to prepare the tatin.
As the caramel is made add the butter. Finish adding the sugar.
Once the caramel is made (WATCH VIDEO), arrange all the apples cut into wedges and large pieces in an orderly manner.
To finish, cover with the puff pastry, prick it and bake at 190ºC for 30 minutes.
Catering Iria Castro https://www.iriacastro.com/