Good morning
As it approaches the weekend that you think if we prepare these delicious Italian cookies that are a delight and easy to do?
They call them Anginetti and they are so delicate and tasty that I'm sure they will become part of your special cookbook!!!
Kisses.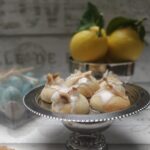 Anginetti lemon cookies
2019-02-07 05:57:55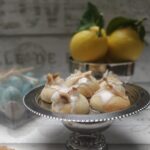 Serves 25
To prepare cookies
170 g Butter
95 g sugar
1 1/2 egg to ambient temp
300 g flour
1 tsp baking power
The zest of 1 lemon
A few drops of lemon extract
For frosting
200 g sugar Glass
1 lemon juice
Coconut flackes, chopped green pistachios...
Instructions
Preheat the oven to 180 ºC.
In the bowl of the cooking robot, beat the butter with the sugar until a soft white cream is obtained.
Add the eggs and continue beating for a couple of minutes.
Meanwhile sift the flour, add a pinch of salt and the royal yeast.
Finish the biscuits adding to the butter cream The lemon extract, the lemon zest and finally the flour.
Mix at slow speed for 1 minute.
Remove the dough from the bowl and wrap it in film. Reserve for 1 hour in the fridge.
When making cookies dispose of baking paper on the oven tray.
Make the pellets of 15g and place them on the tray, separated by a few cm.
Using the finger, flatten the ball surface a little and bake for 12 minutes.
Remove from oven and pass to a grate.
Once the biscuits are cold, drizzle with the lemon frosting and finish with the toasted coconut or chopped green pistachios.
They are kept very well for 3 days
Catering Iria Castro http://www.iriacastro.com/