Black rice is one of my favorite rices.
I leave you this recipe + video that is a delight !!!
Kisses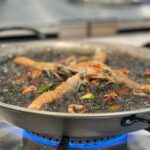 Black rice with baby squid, asparagus and cherry tomatoes
2020-05-21 19:58:10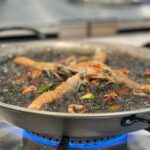 Serves 4
To prepare the seafood broth
700 g shrimp shells, prawns, small lobsters ... very important to use the heads of the shellfish!
4 squid ink sachets
3 liters of water
4 garlic cloves, minced
4 rolled mushrooms
Parsley
40g tomato concentrate
To prepare the rice
Paella of 40cm diameter
300g rice variety bomb
1,200 ml broth
8 green asparagus
8 cherry tomatoes
1 Italian green pepper
25 g minced iberian ham
4 crawfish
600g baby squid
3 garlic cloves
1 grated tomato (the pulp)
Salt
Preparación
To prepare the seafood broth put a pot on the fire with a little oil. Add the minced garlic, lightly brown and add the shellfish heads and shells.
Leave on the fire until they take on a nice golden color. At that time add the rolled mushrooms and sauté the whole for 5 minutes.
Then add the concentrated tomato, parsley and cover with water (see video).
When it starts to boil, remove all the foam (impurities) and leave on medium heat for 50 minutes.
Meanwhile chop the garlic, the green pepper, the green asparagus, the Iberian ham and cut the cherry tomatoes in half.
To finish the broth add 4 bags of squid ink and leave on the fire for 15 more minutes. Strain and reserve.
Prepare the rice according to the instructions in the video.
Do not forget the salt !!!
As soon as the rice is boiled with the broth, taste it and put it to the point of salt.
The first 10 minutes should boil over high heat and the remaining 10 minutes over low heat.
Catering Iria Castro https://www.iriacastro.com/