I learned this lemon cake long ago in France.
We served it at the hotel breakfasts in San Juan Pie de Puerto de Fermín Arranbide in the Pyrenees.
It is so rich, juicy and aromatic that it is part of the usual recipe room.
I hope you like it, kisses !!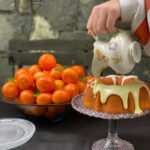 French lemon cake with white chocolate icing
2020-05-16 18:14:48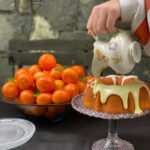 Serves 8
To prepare the cake
Zest of 2 lemons
3 large eggs
175 g sugar
140 g pastry flour
1 c.s. chemical yeast
75 g cream 35% m.g
50 g butter
20 ml rum
For the white chocolate sauce
240 g white chocolate topping (for desserts)
200 ml liquid whipping cream
Candied or candied oranges
Preparación
Beat until the 3 eggs are whitened with the sugar and the lemon zest.
When everything is well assembled and bleached (pale white color), add the cold cream with the machine on slow speed.
Add the sifted flour and chemical yeast and mix slowly.
Finally add the melted butter and 20 ml of rum.
Grease the mold, line the base with baking paper and pour the cream.
Bake for 40 minutes.
Remove from the oven and let cool 15 minutes before unmolding.
Once the cake is cold (VERY COLD), cover with the white chocolate and finish with the candied orange.
To prepare the white chocolate sauce, melt the white chocolate in a water bath. Add the liquid cream and mix very well.
Let stand and cool at least 4 hours before using.
Catering Iria Castro https://www.iriacastro.com/