All of you who know me know that I love curry and as it couldn't be this way, this recipe fascinates me !!
The combination of the massaman curry with the crispy philo pasta is very special!
Kisses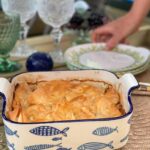 Massaman curry pie with philo pasta
2020-05-06 19:30:28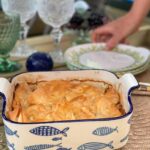 Serves 4
Ingredients
Coconut oil
3 garlic sprouts
2 chopped shallots, chopped
2c.c pasta Massaman curry
15 ml. soy sauce
20 g light brown sugar
400 ml coconut milk
300 g salmon loin in 4 cm pieces
200 g raw shrimp, peeled and minced
100 g peas
200 g rapeseed, cut into pieces
Zest and juice of ½ lime
Chopped cilantro
3 sheets of philo paste
Olive oil to brush the pasta
salt and mill pepper
Preparación
Preheat the oven to 180 ° C.
Heat the coconut oil. Add the garlic sprouts and the minced shallots and sauté for a couple of minutes.
Add the curry paste and stir. Cover with the coconut milk and leave on the fire for 10 minutes.
Meanwhile cut the fish and peel the prawns.
Add the fish and shrimp to the sauce, the peas, the lime zest and the juice. Leave for 2 minutes on the fire. To finish rectify the point of salt and pepper and add the chopped coriander.
Remove from the heat and pour into the chosen mold.
Let it lose temperature and finish by adding the two sheets of wrinkled philo paste on top. Brush with olive oil and bake for 12 minutes approx.
The philo paste must be browned !!
Serve right away.
Catering Iria Castro https://www.iriacastro.com/