The potato gnocchi with Parmesan cheese are very fine, delicate and exquisite. 
Do not stop making them, you will love them and you can serve them as a main dish 
and even as a garnish with meat dishes.


Kisses ,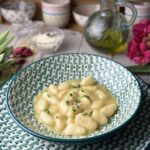 Potato Parmesan Gnocchi with Butter Sauce
2020-09-27 19:35:45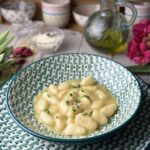 Serves 4
To prepare the potato gnocchi
Coarse salt
500 g of potatoes for cooking or roasting (375 g of potato pulp)
45 g flour
2 small egg yolks
salt and black pepper mill
40g grated Parmesan
To prepare the butter sauce
250 ml poultry broth
80g butter
10 g of cornstarch + 3 c.s. Water
Fresh sage and chives
salt and black pepper mill
Preparación
Preheat the oven to 190ºC.
In a baking tray, arrange coarse salt covering the entire tray.
Place the washed and skinned potatoes on the salt and bake for 45 minutes (check that they are tender before removing them from the oven).
Peel the potatoes and pass them through a very fine puree.
Weigh out 375g of potato pulp and add the flour, the two egg yolks and the Parmesan cheese. Add the salt and the black pepper.
Work the whole to form a dry and compact dough.
On the work table, make the gnocchi of the desired size. If the dough sticks to the table when making the gnocchi, sprinkle a little flour.
Go arranging the gnocchi on greaseproof paper. Bring water to a boil, add a little salt and olive oil and when the water comes to a boil add the potato gnocchi.
As soon as they rise to the surface (1 minute approx), remove them from the water and quickly transfer them to a bowl where we will have ice water.
Cool them very quickly and remove them from the cold water. Spread them out on a tray and keep them in the fridge covered with plastic wrap. They keep very well for a few hours in the fridge but don't leave them for more than 24 hours.
Prepare the sauce by placing the chicken broth in a frying pan. When it begins to boil, gradually add the cubes of butter and with the help of a ladle, stir until the whole is blended. Little by little you will see that it will take shape and will have a perfect texture.
Season with salt and reserve in the kitchen.
This sauce cannot be stored in the refrigerator, it is best to make it almost at the time of serving the gnocchi.
Chop the aromatic herbs, sage and chives.
When serving, sauté the gnocchi with a little truffle oil.
Heat the butter sauce and add the cornstarch dissolved in water.
Sprinkle the aromatic herbs and to finish add the sauce. Heat quickly and serve with more grated Parmesan on top and black ground pepper.
Catering Iria Castro https://www.iriacastro.com/