One of the best vegetable cakes I've ever had.
It is exquisite and with a very beautiful presentation. It is very easy to make and it keeps very well for 3 days in the fridge. I always serve it with a lemon and garlic gratin that goes great and white sesame on top.
Enjoy it, it is a very special recipe for me because it brings back so many memories !!
Kisses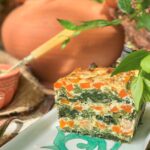 Vegetable cake with garlic and lemon gratin
2020-04-29 19:21:48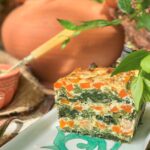 Serves 8
To prepare the cake
2 leeks, the white part
3 large carrots
750 g fresh spinach
100 g very minced Iberian ham
150 g flat beans
Pinch of baking soda to cook the beans
salt and white mill pepper
For the cream
3 eggs
250 ml liquid cream at 32% m.g
salt and white pepper
For the gratin
1 clove garlic, minced
the juice of 1/2 lemon
250 ml sunflower oil
salt
Preparación
Clean and cook the vegetables according to the instructions in the video!
Beat the eggs, add the cream and season.
Grease the plum cake mold, place a baking sheet on the base and proceed to form layers with the vegetables (see video). At the end of the first layer pour a little of the cream of eggs and cream and continue with another layer of vegetables and so on until finished.
Bake at 175ºC in a double boiler for 55min.
Before removing from the oven, check that it is well cooked!
Remove from the water bath and let cool for a minimum of 12 hours before serving.
Remove the cake from the pan and cut the necessary portions.
Arrange the garlic gratin on part of the cake (see video), sesame seeds and gratin at 190ºC for a few minutes, it is important to gratin and heat it !!
Enjoy it, it's delicious !!!
Catering Iria Castro https://www.iriacastro.com/