Good afternoon, Today's recipe is wonderful!
You should buy some beautiful salmon supremes, with a good thickness to prevent them from drying out during the roast.
Use for this recipe the vegetables and vegetables that you like the most, skip them first as I show you in the video and finish them in the oven as "papillote".
Kisses.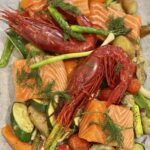 Papillote salmon with bearnaise sauce
2020-05-12 18:48:43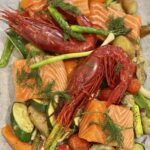 Serves 4
To prepare the salmon papillote
4 Supreme skinless and boneless salmon 120g serving
salt and black pepper mill
4 tiger prawns, shrimp ...
For the vegetables
Potatoes of ration cooked with skin 7 minutes in water, oil and salt.
1/2 thick sliced ​​zucchini
2 carrots, chopped and peeled, cut into large chunks (see video) and cooked 8 minutes in water, salt and white pepper.
1 Italian green pepper
12 well-ripened cherry tomatoes
8 green asparagus
4 laminated artichokes
1 bunches of young garlic
virgin olive oil
Salt and mill pepper
To prepare the Bearnese sauce
80 ml white wine vinegar
Fresh tarragon
1 large shallot, minced
3 egg yolks
250 g butter
salt and mill pepper
To end
Flour + water
baking paper
Preparación
To prepare the bearnaise sauce, the first thing to do is melt the butter over a low heat.
Once melted, remove from the heat and strain it through a cheesecloth (cloth strainer).
Put the white wine vinegar with the tarragon and the minced shallot in the fire in a very small saucepan. Let the vinegar reduce to just over half. Set aside and strain.
Mix in a bowl the 3 egg yolks with the reduced vinegar and gradually add 1/3 of the clarified butter while continuing to beat with a hand stick (see video).
Have prepared a saucepan with a little water, a double boiler, on the fire and arrange the bowl of the yolks on the saucepan and finish adding the rest of the butter while continuing to beat as you can see in the video until the sauce thickens.
At that moment remove the saucepan from the fire with the bowl and chop the tarragon. Add it to the sauce and add salt and black pepper mill.
Remove from the Maria bath pot and BOOK CLOSE TO THE HEAT OF THE KITCHEN UNTIL TIME TO SERVE !!
Sauté all the chosen vegetables with a little olive oil. Season with salt and pepper.
When preparing the papillote follow the instructions on the video and bake for 25 minutes at 185ºC.
Remove from the oven, open the papillote on the table in full view of all diners and serve with the Bearnaise sauce.
This plate is 10 !!
Catering Iria Castro https://www.iriacastro.com/