One of the best meat dishes in the world! Galician meat, a power to be from the tip of the sirloin, which is the filet Mignon!
If you do not have a sirloin tip, nothing happens, do it with the center and there are even those who prepare this wonderful Strogonoff sauce with chicken, pork … This way of preparing the beef Strogonoff sirloin is wonderful.
We will combine mushrooms with mustard, cream, meat bottom … The result will be a very creamy and exquisite Strogon sauce.
Follow the recipe step by step and the video and you will see how well you are going to do it and how much you are going to like it!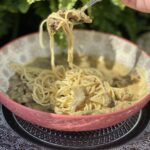 Sirloin Strogonoff
2020-03-29 19:42:11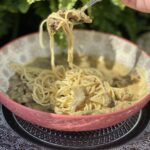 Serves 4
To prepare the Strogonoff sirloin
380 g Beef tenderloin (ideal the sirloin tip)
Salt and black pepper
Olive oil
35 g butter
1 small onion
2 garlic cloves, minced
fresh thyme
35 g flour
280 ml dark meat broth (meatballs recipe)
130 ml liquid cream
50 ml sour cream
40 g Savora mustard
A few drops perris sauce
At your service
250 g egg noodles
Salt and a few drops of olive oil
Preparación
Arrange a pan on the fire. Add a little olive oil and let it cool down.
Add the meat cut into thin strips, seasoned and sauté quickly leaving it half raw.
Set aside and reserve. In that same frying pan, add the butter to the fire, then sauté the well-chopped onion and the two very well-chopped garlics.
Add the rolled mushrooms, leave for 10 minutes until they take on some color. Then add the flour, mix and leave 1 minute on the fire.
Cover with the dark meat broth and leave on the fire for 5 minutes.
Add the mustard, a few drops of perrins sauce, the creams, the thyme and the chopped chives.
Put a pinch of salt.
If the sauce turns out too thick, add more broth!
Add the meat with all the juho you have released.
Leave a couple more minutes on the fire and set aside.
At the time of serving, cook the noodles or the chosen pasta.
Serve the Strogonoff sirloin with a little chopped parsley by gum and with the pasta very hot !!
Catering Iria Castro https://www.iriacastro.com/