Good afternoon
Tagliatelle Alfredo, a delicious pasta and as I told you this morning snap to do!
This sauce is originally from Rome and is a velvety mixture of cream, cheese and butter. In this case instead of using butter I will use virgin olive oil, I like a lot and this way will fatten a little less!.
I will complete the recipe with a few roasted tomatoes that will give you a wonderful touch, laminated mushrooms, spinach and juice and lemon zest.
It is a complete and exquisite recipe!.
Buy a rich, durum wheat pasta and cook it by leaving it al dente.Tomatoes that are not very small, if you find them medium size would be great, very red and ripe.
I hope you like it as much as I do this way to cook the pasta!
Kisses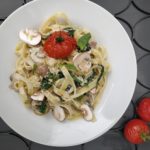 Mushroom Tagliatelle alfredo with roast tomatoes
2018-06-06 16:22:26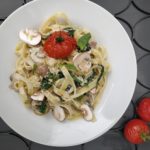 Serves 4
To prepare pasta
200 gr cherry tomatoes or medium tomatoes
320 gr Tagliatelle Pasta
3 shallots
3 crushed garlic cloves
200 gr mushrooms (Portobello, white mushroom, spring mushrooms...)
300 ml cream at 32% M. g
100 gr baby spinach
Zest and lemon juice
65 gr Grated Parmesan + for serving time
A bunch of basil
Salt and white pepper
Preparación
The first thing we have to do is roast the tomatoes in the oven at 175 º C previously seasoned and seasoned with a jet of virgin olive oil and BlackBerry.
Leave them for 25 minutes and check before removing the oven at the point.
In the meantime, prepare the Alfredo sauce by placing the shallots finely laminated with a little olive oil in a frying pan.
Stir for 2 minutes and then add the laminated mushrooms and garlic cloves.
Sauté the unit over a high heat for a few minutes. When the mushrooms start to take color add the cream, the zest and the lemon juice. Let the set cook for 7 minutes, lower the fire a little and add the spinach leaves baby and let it cook for a couple of minutes.
Put salt and pepper in place.
Cook in abundant boiling water with salt (calculate for the pasta 1 liter of water for 10 gr of salt) the Tagliatelle and cook them the time that you mark the manufacturer. Leave it al dente!
Once the pasta has been cooked, drain and reserve a little of the cooking water in case we need to lighten the sauce.
Put the pasta in the sauce, add the parmesan and the chopped basil, mix everything with affection and serve in deep and large dishes with roasted tomatoes, grated parmesan and basil leaves to refresh the dish.
Adapted from Italian Special
Adapted from Italian Special
Catering Iria Castro https://www.iriacastro.com/