Good morning,
Today for tea time I have prepared the typical English tea cakes that they like so much here and the truth is that it does not surprise me.
They are very delicate and super tender. It is a type of bread served to accompany tea in the afternoon.
They are very easy to prepare, the only thing we have to have is patience, the two fermentations will take time but I assure you that it is worth the wait. I have prepared them with currants from Corinth, as they have no seeds and being so small and sweet they are ideal for this type of bread.
Have a great time today!
Kisses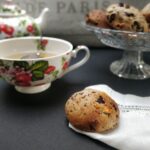 Tea Cakes
2019-01-19 07:26:26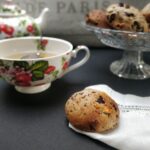 Serves 12
Ingredients
225 g strong White flour
25 g sugar
25 g butter at room temp
3 g salt
5 g dry yeast
140 ml water
90 g currants
25 g mix of dried fruits very chopped
Preparación
Arrange the flour, yeast and sugar in the bowl of the food processor with the kneading hook (if not knead by hand).
Add the butter in small pieces and 1/4 of the water.
Start to knead, add the salt and little by little the rest of the water until forming a smooth and elastic mass.
You will take about 8 minutes until you get an elastic mass!
Remove from the mold, give some pampering on the work table and reserve it in a bowl greased lightly with oil for 2 hours, you should double its volume.
It is important that during this fermentation the dough rests in a warm place, without drafts and covered with a kitchen cloth or covered the bowl with transparent film.
Once the fermentation has finished, add the dried fruits to the dough and work the dough again for another 5 minutes.
When the dough is elastic and all the fruits are very well integrated, remove it from the robot and proceed to bake in portions of 55 g approx.
Shape it into a ball and place it on a tray lined with baking paper and separated from each other.
Cover with transparent film and leave to ferment until they double their volume.
I've had them 2 hours close to the heat of the kitchen !.
Bake at 200ºC for 10-12 minutes. Once golden, remove from heat and let cool on a rack.
At the time of serving they usually split in half, toast and accompany them with lots of butter and jam.
They are also delicious as is!
Catering Iria Castro https://www.iriacastro.com/