Italian dish ideal for summer!!!
Prepare this dish with the "Girello " as they call it in Italy which is a meat cut consisting of the back of the calf's leg. For us it would be the round.
Breeze to prepare, served cold and accompanied with a green salad is the most!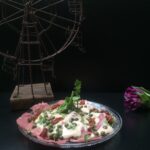 Vitelo Tonnato
2019-05-11 07:53:19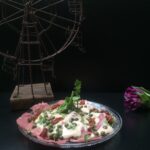 Serves 10
To prepare the Girello
1 Piece of kilo
1 carrot
1 Leek only the white part
1 Stalk of celery
1 onion
For the sauce
185 g canned tuna in oil
40 g pickled capers
6 quality anchovy fillets
200 ml mayonnaise
10 Small pickles in vinegar
Salt and pepper
To finish
Mezclum Micro Shoots
Dry tomatoes
Capers
Instructions
Prepare the Girello by putting the carrot, leek, celery and chopped onion in a pot.
Add the piece of meat lightly seasoned and cover with water.
Allow to cook over medium heat during 1hour.
The meat before removing from the fire should be tender. Remove the pot from the heat and allow the meat to cool in the cooking broth.
Once cold, remove the meat from the broth and cut it into very thin slices. Reserve the vegetables to prepare the sauce.
To prepare the sauce in the cooking robot dispose of the tuna, capers, gherkins, anchovies and vegetables from the cooking of the meat.
Crush the whole well.
Mix with mayonnaise and add salt and black pepper.
Dress the meat with the bonito sauce and finish the dish sprinkling capers, dried tomatoes, shoots of micro Mezclum and rocket leaves.
Adapted from Antonio Carluccio
Adapted from Antonio Carluccio
Catering Iria Castro http://www.iriacastro.com/