Good morning
This week I prepared Melissa Forti yogurt cake and I loved it.
Here I leave the recipe and do not let it because it is spectacular!!!
Kisses and Happy Weekend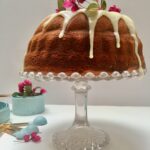 Yogurt cake
2019-04-27 08:26:45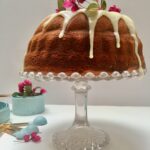 Serves 14
For the cake
420 g plain flour
230 g butter at ambient temp
A pinch of bicarbonate
1c.c. baking power
Salt
400 g fine sugar
Vanilla extract
5 eggs
500 g Natural Greek yogurt
For the frosting
180 g sugar Glass
110 ml double cream (35% m. G)
15 g Golden syrup
Vanilla extract
Preparación
Preheat the oven to 180 º C.
In a bowl sift everything dry.
On the other hand in the bowl of the robot beat the butter with the sugar until making a cream.
Slowly add the eggs and the vanilla extract.
To finish adding 1/3 of the flour, 1/3 of the yogurt and so until finish.
Pour the dough into the chosen mold that will be oiled.
Bake for 40 min.
Remove from oven and allow to stand for 15 minutes. Unmold.
Prepare the frosting by mixing all the ingredients in a bowl.
To gradually add the double cream, thus in this way we will control better the texture that we want to give to the glaze.
Once the cake is cold, add the glaze over and decorate to taste.
This cake is divine and the glaze is 10!!!
Adapted from Iria Castro
Adapted from Iria Castro
Catering Iria Castro https://www.iriacastro.com/