If I tell you that this chocolate cake is delicious sure astonished that I always say the same but it is the truth!!!
It is so rich that I think I will be a season without doing it because we eat it my children and I in an attack and that can not be.
I will do it again at Christmas when everything is allowed…
Prepare to enjoy this recipe, is easy to do and the result is 10!.
Kisses!!!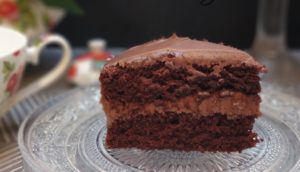 Chocolate cake
2018-10-30 06:20:19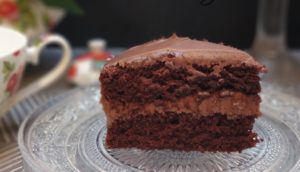 Serves 10
To prepare chocolate cake
175 gr Plain Flour
125 gr caster Sugar
75 ml sunflower oil
30 gr Cocoa
200 ml milk
1 DC Bicarbonate
1c. C. baking power
Vanilla extract
1c. C. white wine vinegar
For filling and covering
15 gr Cocoa
300 gr Cream Cheese
125 gr icing sugar
2 c. s maple syrup
Preparación
In a bowl, mix the sieved flour, bicarbonate, yeast, cocoa and sugar.
In another bowl mix the oil, milk, vanilla and vinegar.
Pour the liquids into the dry bowl and mix the two preparations with the help of the hand rods.
Pour the preparation into two pre-greased 18-20 cm "sandwich" type molds.
Bake for 30 minutes at 180 º C (check before removing the oven from cooking).
Remove from oven and allow to stand for 10 minutes. Cool the cakes without the mold.
Meanwhile prepare the filling and icing
Work the cream cheese with the electric rods in a bowl. Add cocoa, sugar and maple syrup.
Mix very well for a few seconds.
When it comes to assembling the chocolate cake
Arrange one of the parts on the chosen tray and with the help of a spatula, cover it with the cocoa cream.
Place the other cake on top and cover again with the chocolate.
Decorate to taste.
You'll see how nice I'll decorate it at Christmas!!!!
Adapted from Iria Castro
Adapted from Iria Castro
Catering Iria Castro https://www.iriacastro.com/