This recipe is not very easy to prepare but it is worth the effort!
Don't be afraid of the amount of spices it takes, you'll see what a delicious sauce you're going to get. Ideal for accompanying poultry dishes, pork, and all kinds of sautéed vegetables in wok.
In this dish, combined with the salmon and with the cabbage is simply wonderful.
Kisses.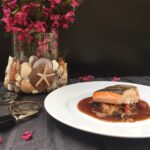 Salmón in Oriental sauce
2019-04-27 09:28:16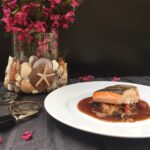 Serves 6
To prepare salmon
6 Salmon Supreme of 150 g unit
Salt
For sautéed cabbage
 300 g cabbage + 5 g salt
 50 ml sesame oil
 25 g icing sugar
 40 ml white wine vinegar
 30 ml sweet sherry
 8 g fresh chopped ginger
 80 g chopped red pepper
 45 g raisins Sultans
 Salt and pepper
To prepare the oriental sauce
 115 ml honey
 100 ml white wine vinegar
 1c. C. English mustard
 35 ml sesame oil
 A bit of
-Cilantro in Grain
-Ginger Powder
-Curry powder
-Cumin in grain
-5 species
-Nail in grain
-Black pepper in grain
-Cardamom in grain
-Star anise
-Caraway in grain
-Turmeric
--------------------
250 ml cravy

Preparación
To make the oriental sauce The first thing to do is to reduce the honey with the vinegar to caramel. Add cilantro, mustard and oil, leave 5 minutes. Add all the spices and leave 3minutos
Remove from the heat and let it infuse for a few hours. (The more time I rest the sauce the better)
Boil the Spanish sauce and add the spices sauce.
Leave 2 minutes to fire. Set aside and let cool. Once cold strain.
Clean the cabbage, remove the hard parts and cut very thin.
Season the cabbage with the 5 g salt, mix well the set and store in the fridge for 30 minutes.
After the time wash it thoroughly and dry it.
Heat the sesame oil in a frying pan and add the cabbage. Allow a few minutes to fire saute and then remove it to one side of the skillet and add the sugar.
When the sugar begins to caramelize, mix with the cabbage.
Add vinegar, sherry, chopped fresh ginger, chopped pepper and raisins. Leave to the fire until all the liquid evaporates. (Over medium heat, the cabbage will be done).
Put salt on point if necessary.
Season the salmon and in a very hot skillet with a little olive oil mark the salmon on the side of the skin.
Turn around and finish in the oven leaving little done inside, at 180 º C for 3 minutes.
When serving, heat the cabbage. Heat the sauce and put a little cabbage in the center of the dish, place on the salmon and around a little oriental sauce.
Catering Iria Castro https://www.iriacastro.com/