This is my salmorejo. Of all the recipes I have this is my favorite !!.
The texture, creaminess and flavor is wonderful, I would say that it is an exquisite tomato cream with a perfect point of vinegar.
Do not stop making it, follow the recipe step by step and you will see what a delicious dish.
Kisses.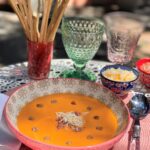 Salmorejo
2020-05-19 21:30:43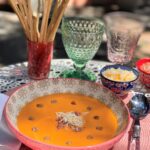 Serves 4
To prepare the salmorejo
750g ripe pear or branch tomatoes
4 hard-boiled eggs
65g sherry vinegar
250 ml Arbequina virgin olive oil
1 clove of garlic without the germ
70g bread of the day or hard
Salt
For the garnish
60g iberian ham
1 boiled egg
1 slice of German black bread
Preparación
Cook the eggs for 10 minutes with a pinch of salt. Cool, peel and cut into pieces like in the video.
The first thing we have to do is blanch the tomatoes in boiling water with a cross-shaped incision in the skin. Blanch for 30 seconds, remove to a bowl with ice water (see video).
Peel the tomatoes and chop them.
Put the chopped eggs in a bowl. Add the tomatoes, the bread, a pinch of salt, the sherry vinegar, the minced garlic clove and 125 ml of virgin olive oil.
Mix the whole very well (see video) and reserve in the fridge for 12 hours or overnight.
The next day, crush everything and gradually add the rest of the virgin olive oil in a fine thread.
Strain and add salt.
Reserve in the fridge until cool very well.
Grate the egg for the garnish, chop the Iberian ham and cut the German black bread into very small cubes.
At the time of serving, accompany the salmorejo with the 3 garnishes.
It is a plate 10 !!. Enjoy it.
Catering Iria Castro https://www.iriacastro.com/