Good afternoon
Today I prepared for dinner this super recipe with lemon and raspberries. It is divine, I learned to do in a pastry course at the School of Cooking Lé Notre and the truth is that it is fine and very elegant.
Happy Weekend!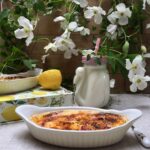 Lemon curd cream
2019-05-24 06:10:43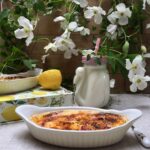 Serves 4
For the lemon curd Cream
85 ml lemon juice
85 g sugar
3 medium-sized eggs
175 ml double cream
The very fine zest of 1/2 lemon
24 raspberries
Caramelized sugar.
Preparación
Preheat the oven to 180 º C.
Combine lemon juice and sugar in a saucepan with the fire and make a syrup (boil for 2-3 minutes aprox.)
Beat the eggs and gradually add the syrup. To finish adding the double cream that will have boiled and lightly beat the whole.
Strain and add lemon zest.
Let the cream rest for 10 minutes and remove the foam that forms on the surface.
Meanwhile prepare a bain-marie in the oven.
Pour the lemon cream in the chosen molds and remember that it can not have foam!
Add raspberries and bake for 20 minutes. The cream should be curdled before removing it from the oven. Let it cool down.
Reserve it in the fridge so it cools completely.
Before serving, sprinkle sugar on the surface and burn with a blowtorch.
This dessert if served with raspberry ice cream is to mourn!!!!
Catering Iria Castro https://www.iriacastro.com/