Good and cold afternoons!
I don't know what time it will be where you live but what I can tell you is that it's freezing here in Madrid, so I started making croquettes because I'm not leaving home today!
This bechamel for croquettes is wonderful, the amounts of milk, flour and butter are perfect to get a soft and fine bechamel. One of the most important things to keep in mind when making the croquettes is the cooking time of the béchamel.
Follow the recipe step by step and you will see how from now on you will always make these croquettes!!!
Happy night on Saturday.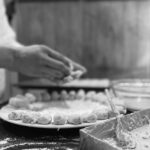 Croquettes
2020-01-11 19:45:20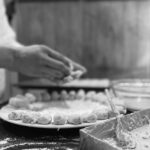 Serves 8
To prepare the bechamel of croquettes
1 litre of milk
125 g butter
130 g flour
salt
180 g highly chopped Iberian ham
To be impaled by
Flour
2 egg shakes
breadcrumbs
Olive oil
Preparación
Place the milk, flour and butter on the fire in a 23 cm diameter pot and stir with a stick until it boils. Lower the heat and let it boil over medium heat for 25 minutes stirring very often.
After the time add the Iberian ham very chopped and leave 20 minutes more. Salt and remove from the heat. Spread the bechamel on a tray of 30x30cm and cover blindly with transparent film( touching the bechamel with the film.
Leave to cool and reserve in the refrigerator for 24 hours.
When making the croquettes with the aid of a dessert spoon make small and equal portions of bechamel and put them as seen in the photo on a dish with flour of common use. Go flying with the help of the hands the dough and put them in the and place them on the plate. Pass the croquettes on the beaten egg and then on the breadcrumbs.
Arrange them in a tray as you make them and reserve them in the fridge until the time to use ( maximum 2 days in the fridge) or freeze them!!
If you are going to fry frozen oil temperature should be between 175º C- 185º C.
If the croquettes are not frozen the oil temperature should be at 190º.
Enjoy !!!!
Catering Iria Castro https://www.iriacastro.com/