This way of roasting is very good!
We will play with the temperature of the oven, that´s one of the secrets in a good roast.
First turn on the oven at 200ºC to make it very hot and then at 150ºC lowring the temperature
…
More things to consider; marinate the chicken well, lots of water in the roast and little oil … all these things you will see that are very important!
Follow the video, it will help you get a delicious barbecue!
Kisses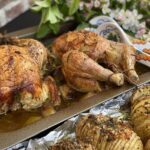 Grilled chicken
2020-04-02 19:33:15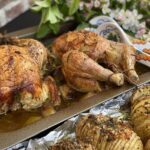 Serves 10
To prepare the roast chicken
2 chickens (1.5 kg / chicken)
Olive oil
Salt and black pepper mill
200ml water
8 shallots
1 onion
2 celery stalks
To prepare the potatoes
5 medium potatoes
4 garlic cloves, minced
Aromatic herbs: sage, thyme, rosemary, black peppercorns and dried oregano.
Olive oil
Water
Salt and black pepper mill
Instructions
Preheat the oven to 200ºC.
Tying chicken thighs. Season the chickens and arrange them on the chosen tray. Add the olive oil over the chickens and pour the water through the tray. (it is very important that the chicken always has some water during cooking)
Chop the celery stalks, onion and peel the shallots. Add everything to the chickens and place in the oven for 55 minutes.
After the roasting time, wet the chicken with the juices from the roast (see video) and continue roasting at 150ºC for 30-45 minutes.
If the chicken is not going to be served at the moment we can reserve it in the oven for 2 hours covered in aluminum foil at 110ºC.
On the other hand, prepare the potatoes with skin, washing them very well. Make incisions with the help of the special utensil for it (see video).
In a mortar, crush the aromatic herbs with the black pepper, dried oregano, peel and chop the 4 garlic cloves very well.
Arrange the potatoes on the chosen baking tray and add a little salt and black pepper, the garlic, the aromatic herbs and pour olive oil and a little water (important that they always have water).
Put in the oven at 180ºC for 30-45 minutes.
Catering Iria Castro https://www.iriacastro.com/