I hope you enjoy as much as I do this simple and delicious dish.
Serve it with rice, the combination is perfect.
Kisses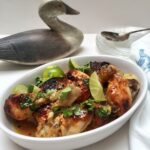 Chicken Thai
2019-05-07 07:28:33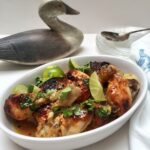 Serves 4
To prepare the chicken
1 kg thighs and chicken thighs
50 ml olive oil
Salt and white pepper mill
65 g chilli sweet sauce
20 g fish sauce
40 g grated ginger
3 crushed garlic cloves
The zest and juice of a lime
Cilantro and lime leaves to serve
To prepare the rice
250 g basmati rice
40 g shredded dry coconut
Salt
Preparación
Preheat the oven to 200 º C.
Put the chicken on the oven tray and season.
In a small bowl, mix the sweet pepper sauce, the grated ginger, the fish sauce, the lime, the olive oil and the garlic cloves.
Use your hands and pour all the ThaI prepared on the chicken and mix very well the whole.
Tidyly Place the chicken on the tray with the skin up and bake for 35 minutes, lower the temperature to 160 º C and leave it for 15 more minutes checking before removing the tender oven and the skin with a nice golden color.
Meanwhile prepare the rice and serve it with the coconut.
When serving, arrange the Thai chicken in a nice tray and pour all the juice that has been released in the oven, cilantro leaves and lime slices.
Adapted from Iria Castro
Adapted from Iria Castro
Catering Iria Castro https://www.iriacastro.com/