You know I love creams and this mushroom is wonderful. I prepare it by combining dry and fresh mushrooms and this way it has much more flavor.
The texture is also very important, you will have to use double cream to get the softness and sweetness we seek.
Kisses.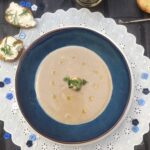 Creamed mushroon soup
2019-05-19 07:42:52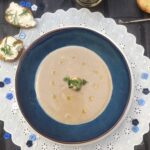 Serves 4
To prepare the cream
30 g butter
500g mushrooms (to choose mushrooms, Portobello, Boletus...)
1/2 Leek chopped The white part
1/2 chopped onion
2 chopped garlic cloves
Thyme and fresh laurel
1,100 L poultry broth
15 g dry Mushroom
70 ml double cream
To serve
Chopped parsley
Sautéed mushrooms
Picual variety virgin olive oil
Lining
Toasted bread
75 ml natural Greek yogurt
75 g feta cheese
Fresh dill
Preparación
Melt the butter with a little olive oil on the fire. Add the chopped vegetables and fry for 10 minutes over medium heat. Add the fresh mushrooms well-cleaned and chopped and stir-fry for 10 minutes.
Add the thyme and a laurel leaf and when the mushrooms have lost all the water of vegetation and the whole has a beautiful golden color add the chicken broth the dried mushrooms and 200 ml of the water where we hydrate the mushrooms.
Leave to fire for 20 minutes. Remove the thyme and the Laurel and mash.
Strain the cream and put it back into the fire. Put salt and white pepper in place and add the double cream.
Allow to simmer for 5 minutes over medium heat. Set aside and reserve until serving time.
Prepare the toast by mixing the yogurt with the crumbled feta cheese in a bowl.
Add some coarsely chopped dill and book in the fridge until serving time.
Sauté 100 g of varied mushrooms. Put salt on the point.
When it comes to serving heat the cream. Rectify the seasoning point if necessary and re-strain.
Serve on selected dishes with sautéed mushrooms, chopped parsley and a fine thread of Picual olive oil.
Accompany with the feta cheese toast.
Catering Iria Castro https://www.iriacastro.com/